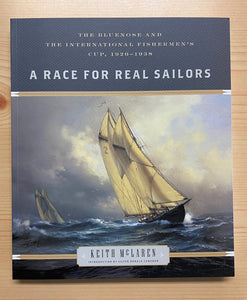 A Race for Real Sailors
        "In the summer of 1920, many Canadian fishermen following the America's Cup series were frustrated. Every time the wind breezed up, the organizers called off the race. These are contests for men in whites and boats with tender hulls, they muttered in the taverns of Halifax and Lunenburg. Why not show these fancy yachtsmen what the last of the working schooners, manned by genuine salts, can do? A Nova Scotia newspaper donated a trophy and threw down the gauntlet to the seamen of New England, challenging them to meet the Maritimes' best in a "race for real sailors." And so the International Fishermen's Cup was born.

Exhaustively researched in archives in both the U. S. and Canada, A Race for Real Sailors is a vibrant history of the Fishermen's Cup series, which dominated sporting headlines between the two world wars. Here are the incidents and drama of each race and the almost living personalities of the schooners that contested them: the Delawana and the Esperanto, the Columbia and the Gertrude L. Thebaud, and dominating them all the Bluenose, the big brute from Lunenburg whose image shines on the Canadian dime to this day. Vying for the spotlight are the boats' larger-than-life skippers, among them Marty Welch, the hard-charging American who first took the cup; Ben Pine, the Gloucester scrap dealer whose passion kept the races afloat when they seemed destined to fade away; and the irascible, impossible Angus Walters, master of the Bluenose, who repeatedly broke American hearts but whose own heart was broken by Canada's refusal to come to the rescue of his beloved vessel.

The stirring and poignant tale is illustrated with 51 historical photographs and five maps, rounded out by a glossary of sailing terms and an appendix of the ever-changing race rules. This is a story that will keep even confirmed landlubbers pegged to their seats, a tale of iron men and wooden ships whose time will never come again".
---
We Also Recommend