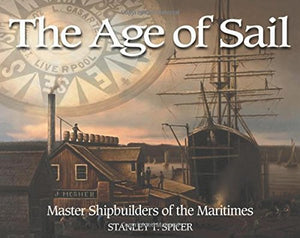 Age of Sail by Stanley Spicer
The 19th century was the age of shipbuilding in the Maritime Provinces. All along the East Coast, men were turning trees into ships that would sail on the world's oceans. Farmers and fishermen became master craftsmen building huge, deep-water vessels.
In this beautifully illustrated volume, marine historian Stanley Spicer recaptures the age of sail and its many colourful characters. From hundreds of shipbuilders, Spicer has selected the Troops of Saint John, the Killams of Yarmouth, Joseph Cunard in Bathurst, the Peake family of Prince Edward Island, John Young of Lunenburg and the Moshers in Avondale. Through these often larger-than-life figures, we explore the triumphs and tragedies of the Maritimes' great age of shipbuilding and shipowning.
The Age of Sail draws on a range of rich visual resources including ship portraits, archival photographs, engravings, and artifacts displayed in the collections of leading Maritime museums, adding depth to a gripping historical account.