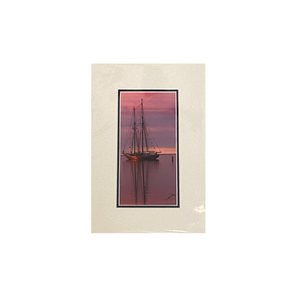 Bluenose II at Sunrise Print
Christian Herridge is a local amateur photographer who enjoys capturing local scenery, wildlife and the Bluenose II with his lens. He does not retouch, enhance or photoshop any of his work  - he takes great pride in capturing the perfect shot in just the right light.
This particular print is of the Bluenose II at Sunrise - it was taken in 2022 when we stopped overnight in Mahone Bay, just by his home.
About Christian - Born in Lunenburg in 1975, Christian struggled within the school system due to poor comprehension and health. He made it through to grade nine, where at the age of 15, he was diagnosed with Schizophrenia. At the age of 21, he was also diagnosed with 22q11.2 deletion. In addition to this, Christian also has a congestive heart condition, one kidney, asthma, osteoporosis, sleep apnea, restless leg syndrome, and multiple allergic sensitivities. He must take numerous medications to stay well.
That being said, Christian is an avid cyclist - you can often catch him travelling the old number 3 highway on his bike, camera in hand, to capture his next perfect shot!
---
We Also Recommend