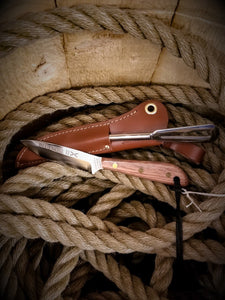 Grohmann Yachtsman Knife
This Grohmann Yachtsman knife is a handcrafted product, made right here in Nova Scotia!
Grohmann Knives Limited is a family business with a big reputation. Each blade is made with high-carbon stainless steel that has a RC hardness 56-58 degrees (hard enough to hold its edge), yet the carbon content allows for ease of sharpening. The Yachtsman knife is approximately 8-1/4" long with a 4 x 15/16" blade, which features a natural handle that is comprised of rosewood.  It also comes with a Marlin spike and both the knife and spike fit snug into a custom leather sheath. 
Each member of the Bluenose II crew uses this Grohmann knife and can attest to its' durability and quality.