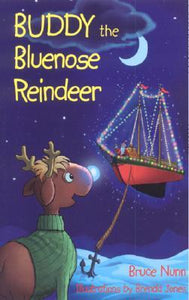 The Best Of Buddy The Bluenose Reindeer
"Buddy, the Bluenose reindeer, is a dear little deer from Nova Scotia. And just like Rudolph (they're first cousins, once removed, on Buddy's mother's side), he has a very shiny nose. When the bright blue hue of Buddy's shiny snout helps save a lost fishing schooner, Santa Claus himself takes note!
Soon Santa, Buddy, and the other reindeer have a Christmas adventure all their own, as Buddy fills in for a sick Rudolph. But will Buddy—with his bluest of noses—be able to save Christmas?
Buddy the Bluenose Reindeer is a funny, punny tale, rife with riffs on the traditional Rudolph song we all love. Kids young and old will love Buddy!"
Item#NB0979
9781551098715
---
We Also Recommend